30 Best Local SEO Tools To Improve Your Search Rankings
---
BrightLocal is a tool that has been a popular solution for a lot of companies. The main aim of BrightLocal is to make the local SEO process simple.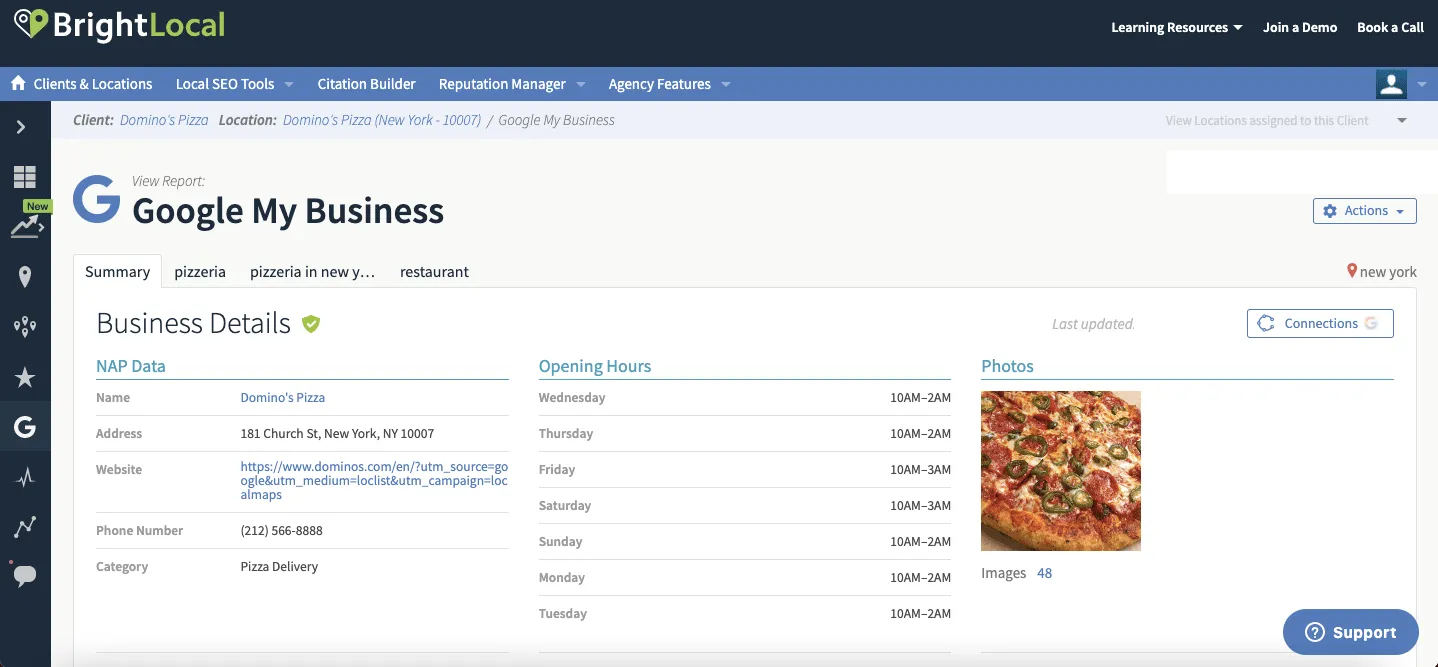 It goes for people who are just getting into SEO.
It is an all-inclusive marketing solution that aligns with multi-location businesses.
It offers a great user experience with a clear dashboard and easy navigation.
You can check local rankings and monitor online reviews. It also lets you audit citations and NAP.
Notable features
It has an accurate keyword rank tracker built into it.
It enables businesses to get accurate feedback on their local rankings. You can also record this over time for comparison.
It integrates with Google My Business Insights.
It can give you a good amount of automation and flexibility over your local SEO process.
It also gives a lot of information in detail about you and your competitors.
SEMrush is perhaps one of the most popular tools on this list, and for a good reason. SEMrush has been around for a long time now.

It has proven itself to be efficient and powerful at what it does.
It aims at intermediate to expert users.
It is a market leader in the "Competitive Intelligence" SEO platform.
It offers considerable insights into your competitors' marketing strategies and tactics.
You can access detailed metrics like traffic, social media, and PPC ads with this tool. You can use SEMrush to find new partners or assess markets and niches.
Notable features
SEMRush tool has a huge repository of information that can help you speed up the local SEO process.
SEMrush has one of the most comprehensive keyword research tools in the market. It has a wealth of information when it comes to keywords for your niche.
You can find suggestions for other keywords and check their ranking difficulty.
You can find suggestions for many levels, city, state, and country.
Ahrefs is another hard-hitting fully-featured SEO tool. With an intuitive user interface, this tool aims at SEO professionals.

Meaning, you need to know your way around SEO to be able to use this effectively. The main advantage of this tool is the ability to crawl through backlinks.
In contrast, it lacks extensive keyword management, and SEO reporting features other tools here have.
Also, its interface is a bit plain when compared to others on the list. While it might be a bit lacking in other departments, it still offers a lot for the price.
Notable features
It has one of the largest collections of backlinks and crawler records out there.
It has more than 12 trillion backlinks and crawls 6 billion web pages per day. So, it is a huge advantage for those who want to track backlinks.
It has detailed keyword research and SERP analysis routines.
The keyword management is a bit basic, but you can compare and monitor domains easily.
Whitespark has a suite of effective local SEO tools for businesses of all types. It offers comprehensive solutions for all areas of SEO.

You can get content creation and review strategy as a part of it.
You can have access to special tools to manage your reputation.
You can use Whitespark to organize the local SEO campaigns effectively.
You can also get an overall view of your campaign's health in real-time.
Notable features
They can offer you close control over several parts of your SEO pipeline.
It almost works like a white label partnership. And the advantage is that you don't have middlemen.
It has several tools to manage your reviews. You can get your customers to leave you positive reviews, and it can considerably improve your business reputation.
Everyone in the local SEO circuit knows about Google My Business. GMB is probably the most used tool when it comes to local marketing. It is so important in SEO that even experts have assigned "essential" status to it.

The first step to mastering your local SEO services is to have full knowledge of GMB. You can add your company details and integrate with various Google services.
Once Google verifies your physical address, they will assign your business a verified tag.
Notable features
It is a simple & powerful tool. It holds the key to ranking in the local 3-pack for searches.
Having your company on this tool can help customers find you easier through Google Maps.
GMB will provide a more cohesive experience for the users.
Adding your business to the GMB will let you access several Google search features like reviews and ratings.
You need to have a GMB profile to address negative reviews.
You can track these reviews with GMB or integrate them with other tools.
GA is another powerful tool from Google's table. Google Analytics is an in-depth analytics platform for all businesses. It is useful for companies of all sizes to get detailed metrics and insights at no cost.

Over 70% of enterprise businesses use Google Analytics. But of course, there are sometimes issues with this. And as it's a free tool, support isn't as fast as the rest of the players. This changes when you opt for their paid version, Google Analytics 360.
Notable features
It has one of the most detailed mobile and web analytics of all software that we've used.
However, even the premium Google Analytics 360 offers similar performance on mobile and web analytics. If you're a company looking for just those, the basic analytics will suit you just fine.
Another advantage of this is that it connects to the entire Google architecture. It means that the data is consistent and dependable. And as it has a huge user base, you can get access to various resources.
What was once Google Structured Testing Tool is now the Rich Results Test Tool. And the change is not just the name; it also has a lot of new features.

While GSTT has not been phased out yet, Google is going to remove it soon.
RRTT uses structured data to identify the type of rich results in a page. Meaning, it can help your website feature in the top rich results easier.
Notable features
Featuring in the rich results section is a huge boost to businesses. And this is the tool that can get that done for you.
It has a singular focus on helping you build rich search results. You get a lot of tools that can help you to do this.
You can use the preview section to see how your content looks like as a rich snippet.
Since this is a new tool, they keep updating this constantly with more features. Many people have complained about the lack of depth for error messages, and it is something that Google is looking into.
GatherUp is a tool that does a specific function for local SEO. Review management is a tough task. Especially when there are hundreds of them, you need to validate every day.

GatherUp lets you manage and monitor reviews easily. It puts all the reviews in one place for your perusal. It is a simple tool with an uncluttered UI and a straightforward working process.
Notable features
In this age of social proof, customer feedback is essential for a brand's marketing process.
GatherUp empowers businesses by making it easy for them to achieve coveted five stars on reviews.
While it has a singular focus, it is extremely good at what it does. The reports are easy to read.
It is interesting to note that most people who use this consider themselves partners and not service providers.
Their support and integration are that good. You get a lot of help and direction with just a phone call or an email.
Yext is another review monitoring and response tool like the earlier one. In the future, user-generated content is going to be critical to success. Yext will help you to manage the reviews and responses effectively.

The advantage here is that you can create new opportunities to get more business. And as you'll be responding to first-party reviews, you can eliminate the middlemen from your marketing process. You can also set up notifications and automated responses for reviews.
Notable features
It is a specialized review monitoring tool, and you get a lot of features with it.
The sentiment analysis feature is something to note. You get a detailed history of how your customer feedback has been over time.
It helps you pick out keywords from their reviews that you need to act on.
Yext cross-references all your customer reviews with a knowledge network and comes up with intelligent analysis.
It helps you improve your product and get better reviews.
Moz is one of the best-known knowledge platforms on SEO. Moz Local is a listing management software for local businesses that primarily aims at startups and brick-and-mortar businesses.

It helps you to manage your physical location and multi-location businesses better.
It has several automation features that can help you phase out manual work.
You should note that they do not have a free trial version for you to try.
Notable features
Moz comes from a background of intensive SEO. So, they know what it takes to rank a website.
Moz Local app is highly professional and neatly laid out.
You get several options for automation. When compared to the earlier versions, the integration features are much better now.
A lot of people feel that this is the best tool for business data management. It can delete duplicate lists and keep data accurate.
As it aims at professionals, it might be a bit difficult to get into it. But once you do that, everything else becomes a lot easier.
Search Console is another Google product that you can't do without. Google Search Console can help with crawling and indexing your websites. It will help you to achieve high local search rankings.

You also get many useful general recommendations for your website, like loading times, keyword performance, and more. It now has a revised version, which changes some of the interfaces but offers better functionality.
Notable features
Search console is an all-inclusive local SEO tool that has been used for several years now.
Everyone who wants to rank better on social searches uses it, from newbies to professionals.
The URL inspection tool helps you check out how Google renders your website.
You can also find out how often your website appears on searches through the search results report.
Since you're using a Google suite tool, the integration with your search will be much closer.
You can make use of the Review Snippet Enhancement report. (This tool is not available for all)
You get different types of reports on Snippet Enhancement and Performance.
It gives you detailed metrics to improve your rich snippets.
Schema generators are useful when you need to get structured data on your website. It can improve your CTR performance and boost rankings on local SERPs.

The JSON-LD schema generator is one of the easiest solutions to use. It might not have all the features of other schema generators, but it can hold its own.
All you need to do is figure out what you want and then click on generate.
Copy and paste these resultant codes, and you're done.
Notable features
If you want to get things done quickly without fuss, this is your best option. It is light and powerful.
It also has several options for tailoring your JSON code.
You get different profiles to choose from, like the person, product, event, or website, just to name a few.
As it is free, you don't have to pay a cent to test it out.
It can run on most browsers, and you don't have to download anything at all.
It is one of the easiest methods to add schema to your website.
With most businesses spanning the globe, geotagging has become important. And this is even more pronounced with local businesses as well.

GeoImgr gives you a fast and simple method to do this. You can add geotags into the metadata of any image using this tool. It can result in positive local signals for your brand, meaning better rankings.
Notable features
If you want your images, GPS tagged, GeoImgr is the best tool you can opt for.
It is simple to work with and browser-based. And you don't need much time to figure out how it works.
A limitation it has is that you can only use five tags per day for free. But it is cheap if you want to pay for it.
It works great for checking if a photo already has a geotag registered.
When it comes to powerful tools that cover every part of your funnel, SEO Powersuite is something you need. It has a set of four professional-grade tools.

You can optimize websites, audit backlinks, create content, and monitor your progress.
WebSite Auditor helps optimize crawling and site structure. SEO SpyGlass can help you evaluate a website's backlinks.
Notable features
It is a fully-featured suite of SEO tools and can cover most things you need.
From the first website audit to reporting and analysis, SEO PS can take care of everything.
It can integrate with popular communication software such as Asana.
This tool is also great for people who are newer in troubleshooting SEO issues.
If it finds a problem, you will get a detailed set of instructions about how you can fix it. It means you don't have to bother searching forums for a solution.
BrightEdge is another all-inclusive digital marketing platform. It also scales up well, even for professionals. It is an enterprise-level solution for companies.
You can use it to work on keyword analysis, technical SEO, content creation, rank tracking, and backlink analysis. It gives you a wide range of applications that you can use it for. And local SEO can deliver exceptional performance.
Notable features
The most important attribute of BrightEdge is that it has AI-assisted features. Using this can considerably cut down your effort. It also means you get specific solutions to your problems.
The AI specifically helps when it comes to content creation. Its module is called ContentIQ, which is an advanced tool.
It can show you a lot of requisite data, including keyword rankings and trends. You can use this to craft content that appeals to your audience.
Places Scout is a collection of digital marketing tools. It aims at creating better local visibility and reputation for your website.

It can help lead generation funnels get better quality leads as well.
It gives you a rank tracker, review monitoring, citation finder, competitive analysis, and multi-location management.
These are a comprehensive set of tools that can help you get the most out of your local SEO process.

Notable features
The primary objective for people using this tool is to create opportunities for contacts and leads. It can give you targeted results that are not available on other tools.
There are endless filtering options to streamline your search and get what you want.
It can also deal with a lot of data.
You can get a free trial to try this, and their monthly paid plans start from 250 leads.
You get solid customer support, and they have reasonably quick turnarounds.
Mangools is a tool that combines the typical tools you can find with new strategies. So you get keyword and link research combined with rack tracking tools.

And the difference between this and more mainstream tools is how the ideation features are applied here. It is a desirable addition to your SEO collection because of its low price point.
Notable features
A Mangools premium account gets you five SEO tools. They are:
(i) KWFinder
(ii) SERPChecker
(iii) SERPWatcher
(iv) LinkMiner
(v) SiteProfiler

You can find these on the page as soon as you log into it. The standout here is the KWFinder tool. It is much better than other tools here.
You get a lot of actionable data like search volume, CPC, PPC, and KD.
It might not generate as many keyword ideas as the other heavyweights on here. But it produces quality keyword suggestions for the price you pay.
The UI is great, and people can use it without any problems.
When it comes to auditing and crawl solutions, Sitebulb is the choice of many SEO agencies. It is going to be placed between beginner software and enterprise solutions.

While it isn't as powerful as some specialized high-value crawlers, it's much better than a simple desktop solution.
And it does provide some in-depth analysis for the user. It offers great data visualization options, metric analysis features, and scheduled crawling, among other features.
Notable features
Sitebulb is a detail-oriented tool. It isn't something that larger companies can use effectively.
SMEs can get a lot of benefit out of it. It is a great tool for SEO consultants and freelancers.
While it might have a limited feature set, it performs admirably in what it offers. It makes it a must-buy if you have a gap when it comes to crawling solutions.
If you are looking for a tool to help you with local rankings, 5minutesite is a good bet.

This software aims at getting your website as many local business keywords as possible. It is a browser-based tool and looks pretty simple to start with.

You have a lot of parameters that you can adjust. And so this comes across as supremely customizable.
Notable features
It is a tool that serves only one important function - generating local keywords. And it is good at it.
Since it is free, there's no reason not to use it. Of course, there are several apps out there that do what this does. But you can always supplement this into your marketing funnel.
If you are looking for an accurate tool to predict keyword ranks, Advanced Web Ranking is the one you want.

It can track ranking performance over a wide range of factors.
It includes locations, devices, languages, and search engines.
You also get complex data segmentation tools and customizable reporting options along with it.
Something to note is you can have unlimited user accounts per subscription. It also has built-in functions to white-label your services as well, which is a huge plus.
Notable features
It is perhaps one of the most accurate standalone tools for rank tracking and reporting.
It is quite affordable and aims at intermediately experienced people. You can also use this as a partner service tool.
It is a professional-grade tool for freelancers and digital agencies. It can't quite be used as an enterprise-level solution because it is too focused on one aspect. Several other tools combine rankings with other aspects.
Schema App is a tool specializing in building structured data, and it works great at all levels.
The tool aims to compile data into a form that can be interpreted by machines optimally. And the advantage this has over other apps here is that you can scale it easier.

You can use this for enterprise-level operations without any compromise. Another surprise is that it doesn't cost all that much for an enterprise-level solution.
Notable features
The Schema App delivers easy to process high performance structured data.
You can easily incorporate it into your search engine schema process. It naturally results in increased traffic and improved click-through rates.
This app can deliver three different Google Site Structures according to your need. The most common of them are Breadcrumbs, Your Site Name In Results, and Sitelinks Searchbox.
You can also integrate this with popular CMS like WordPress to make it a competitive package.
One of the simplest tools available online is perhaps Google Alerts. But it is really powerful and works as advertised.

You can set it to specific keywords and receive notifications when articles with those keywords are updated online. It is particularly useful when you want to stay on top of a particular keyword. And the kicker is that this tool is completely free to use. And since it's from Google, it's well-integrated into the search ecosystem.
Notable features
Google Alerts is a comprehensive solution for people who want to stay informed about specific keywords.
It has an incredibly user-friendly interface, so it's easy to set parameters on it.
The updates are almost instantaneous. You will never miss out on any keywords that you've specified.
Talking about rank checking software, Rank Tracker is one of the quickest software available.

You can search for about 200 keywords, and you get results inside a minute. And there is also a lot of praise for its accuracy.
It is more accurate than other tools around.
It has a fairly uncluttered UI, but some people can find it too basic.
Notable features
People would find a use for it because it can track any number of keywords.
It is a great feature, especially if you have to deal with large data sets. All this data is recorded so you can reference it later.
You can also set it to autopilot tracking, which automates your tracking process.
You can have it track keywords at a specific date and time. It can be useful for smaller companies who don't have a lot of staff.
cognitiveSEO is a website audit tool that highlights issues and suggests appropriate actions to resolve them.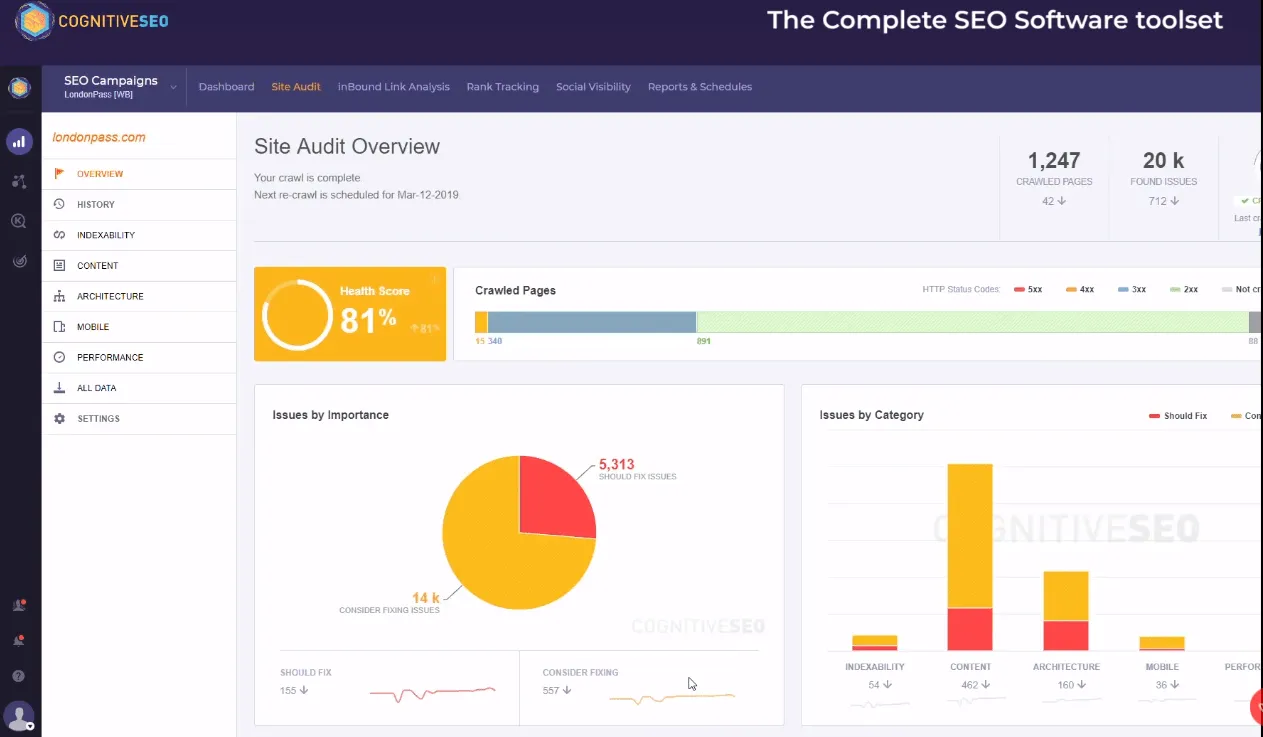 It can identify a large number of site issues.
It can help you with corrective actions.
It is a widely used, powerful tool.
Using this tool, you can stay ahead of your competition. It's much easier to manage your website and keep it free from issues.
These are the tools it comes with - backlink analysis, rank tracker, content visibility, and reporting. It might require a bit of reading up, but professionals will find it easy to work with.
Notable features
The list of website problems cognitiveSEO can handle is long. Some of them are:
(a) Slow load times
(b) Broken links
(c) Duplicate content
(d) Canonical tags
(e) Anchor text
(f) Malware

It can also find issues related to international SEO.
It is truly a tool that can replace several others on the list.
It also lets you track issues with your website over time. Meaning, you can look at the history of changes that you have made and work on it.
Yoast SEO plugin is another all-inclusive SEO tool that can handle anything you throw at it. You can use it to optimize meta tags, generate sitemaps, manage store opening hours, and more.

It also has options to customize your output for multiple locations.
It is a simple program to work with, and very little setup is required.
You can also use this to optimize your website.
With the Yoast plugin, you can easily add a contact form to your site. All you need to do is install your plugin, activate it, and enter your business information. It generates a shortcode that you need to add to your contact pages.
With a massive list of features in place, its price makes it more attractive.
Notable features
Something that most people have noted about this is the ease of use and price.
It is super easy to use, and there isn't much setup required. The UI has a nice and easy layout to it.
You can manage your title tags, meta description, tags, categories, and more.
You can also manage using the index & noindex tags on your website easily.
Synup app aims right at the local SEO market. Synup can help your brand by optimizing its local content and presence over several platforms.
The developers consider this a "campaign management" tool because of its extensive features. You get an extensive list of all local business and directory listings.

You can manage your listings with a simple to use dashboard. You get all your required information in one place.
Notable features
The standout feature of this app is the ability to connect to various local business listings. It has a huge list of them, and you can use this to improve your brand presence.
As you get all listings on the dashboard, it saves you time and money. It also helps you improve your accuracy when it comes to company information on business listings.
Content creation is a part of marketing that most people have problems with. It can be difficult to estimate and optimize written content for your audience.

Surfer SEO is a tool that is designed to do just that. It can help you optimize content like blogs and articles on your website. Since it is cloud-based, it works by analyzing your content against 500+ rankings signals.
It can give you a comprehensive data-driven analysis of your textual content.
It includes several in-depth features like Latent Semantic Indexing and Natural Language Processing keywords.
Notable features
Endorsed by heavyweights in the arena like Matt Diggity and Gaël Breton, Surfer SEO is a powerful tool.
The content suggestions made by this platform can have remarkable results on your business website.
And since it has a friendly user interface, you can use it with very little training.
All this performance comes at a lower price point, making this a must-have for your SEO toolkit.
As the name implies, it is a local rank tracker tool for all types of niches.

The developers say that it offers businesses a way to improve their throughput. It aims at a "hyper-local" experience for both brands and their customers.
Notable features
It has a lot of features related to rank tracking that other tools here don't have. For example, it uses a multi-point grid for more accurate results.
It is also extremely intuitive and user friendly.
Additionally, you also get competitor insights for a more competitive edge.
It uses SoLV reports, which can help you manage your pipeline a lot easier. It also lets you compare your data with your competitors.
Advice Local is an all-inclusive local search marketing tool. It has a lot of built-in features. The central objective is to help businesses find their local customers.

It offers new methods to improve lead generation by identifying partnerships and managing reviews. While it does not offer the highest performance in any of these, it can do great as an all-around tool.
Notable features
This tool is easily scalable, and it can be adapted much easier to enterprise-level solutions.
It is built with a SaaS paradigm in mind.
It is modular and easy to work with.
Any business using this will get a bird's eye view of their local SEO status.
You can see your lead generation, reviews, and local presence all in one place.
You can also communicate with your potential clients through its network of directories.
It is probably one of the most comprehensive review tracking software out there. It has won multiple awards over time, and more than 50,000 businesses are using this tool.
Using this, you can track your reviews on the most popular platforms available. You can use this in platforms like Yahoo, Trust Pilot, Google, TripAdvisor, and more.

Rank tracking software is always important to local SEO.
Notable features
ReviewTrackers uses proprietary methods to analyze and aggregate customer reviews.
From here, you can control various aspects of your reviews.
It also helps to get in touch with the reviewer easily.
It helps increase customer loyalty and improve local SEO strength.
With recent advances in technology, you also get the benefit of machine learning algorithms.
It allows you to automate your tracking schedules.
It also gives you intelligent feedback for each of your tracking campaigns.