How To Excel At SEO for eCommerce Product Pages?
---
1. Take Advantage of Rich Snippets
Rich Snippets give search engines extra information about your eCommerce website. Some of them are: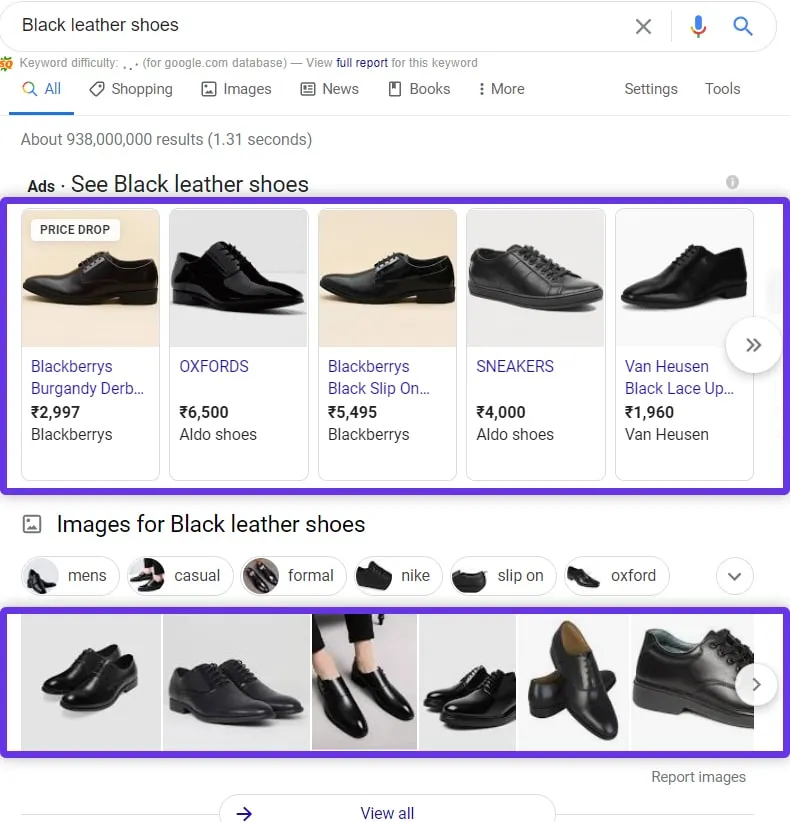 Products
Ratings
Reviews
Events
It helps the search algorithms understand more about your pages.
This extra information also shows up in organic searches leading to higher click-through rates.
Online shoppers love to click on the search listing that offers valuable data and insights into its content.
You can add these rich snippets manually into your content or using dedicated plugins.
2. Include Customer Reviews on Products
Social proof is extremely important and powerful. That is why customer reviews are of vital importance.

Studies show that over 90% of shoppers read product reviews before buying products. And about 84% of viewers trust online reviews as much as the recommendations from a close friend or family.
Product reviews help on-page SEO efforts.
It helps in increasing the possibility of sales.
It builds trust in a visitor's mind.
Product reviews signal Google crawlers to index the site and rank better in SERPs.
3. Add HQ Product Images
High-quality, appealing images will convince your customers that the products on your site are of great quality.
You must include multiple HD photos from relevant angles. It will highlight as much detail of the product as possible.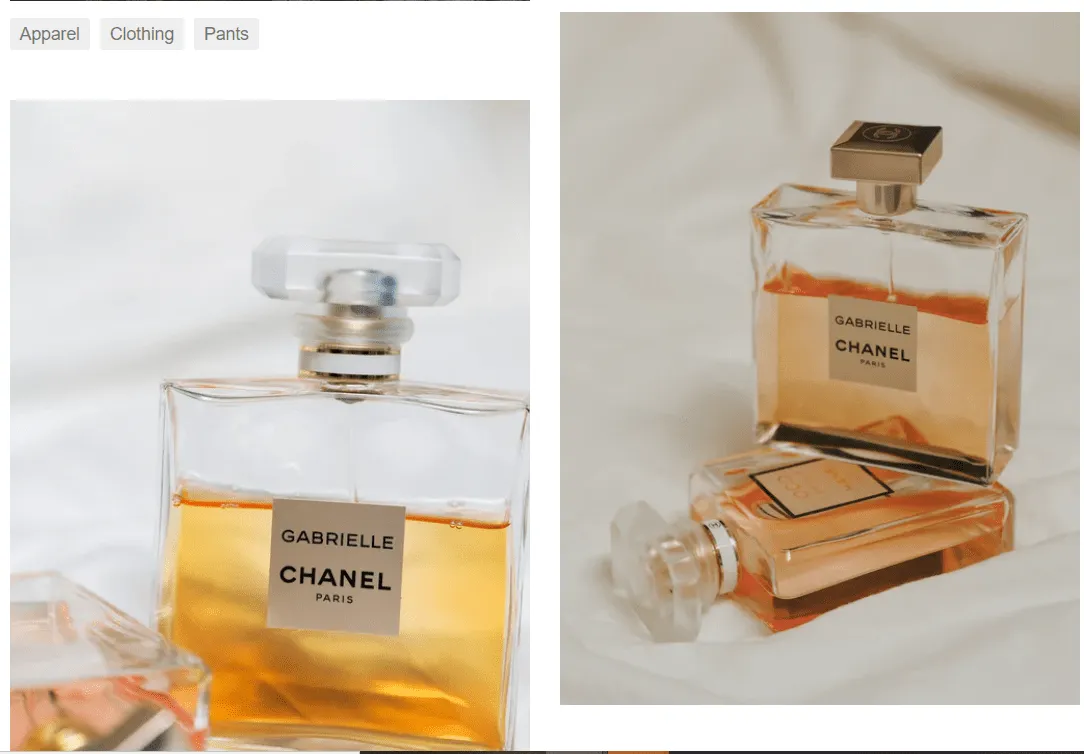 Include one or two "lifestyle images" of your products. It can connect with visitors on an emotional level.
The idea behind including images on product pages is to help your visitors visualize your products better.
Plus, visitors will be able to assess the quality of the products from the images.
4. Include a Product Video
Videos can give the closest in-person experience of your products to your visitors. They can see the product in its physical form and action.
Videos boost your search ranking further. It helps to drive more visitors to your pages. It naturally leads to higher conversion rates.

Studies indicate that more than 85% of consumers purchase products after watching a product video. And there are 40% higher click-through rates with videos in the search results than the plain text.
5. Add a Clear Call-to-action
The end goal of a product or a landing page is conversions and sales.
For this reason, your product page should include a clear and prominent CTA button. Also, it should stand out to grab customers' attention.
As a rule of thumb, your CTA button should stand out compared to all the other elements on your page.
The users should notice it without looking for it on the page.


You must rigorously test your CTA button's aesthetics and positioning. It will drive a maximum number of conversions on your page.
Your call-to-action should be extremely focused on consumer needs. Also, make sure that it focuses on the exact actions you want your visitors to take.
6. Increase the Page loading speed
A slow loading site can cripple your on-page SEO by reducing the click-through rate. It is one of the most common pitfalls in the success of a product page.
A lag in the loading speed contributes to a negative user experience. It forces the site visitors to abandon it and never return.
Google favors pages that load in 4 seconds or lesser. So, you must ensure to make your page load at lightning-fast speeds.
Use tactics like image compression, content delivery networks, and optimized server configurations. They can improve the loading speed.
Product pages should be loaded as fast as possible to the users, failing which will cost you loss of potential customers.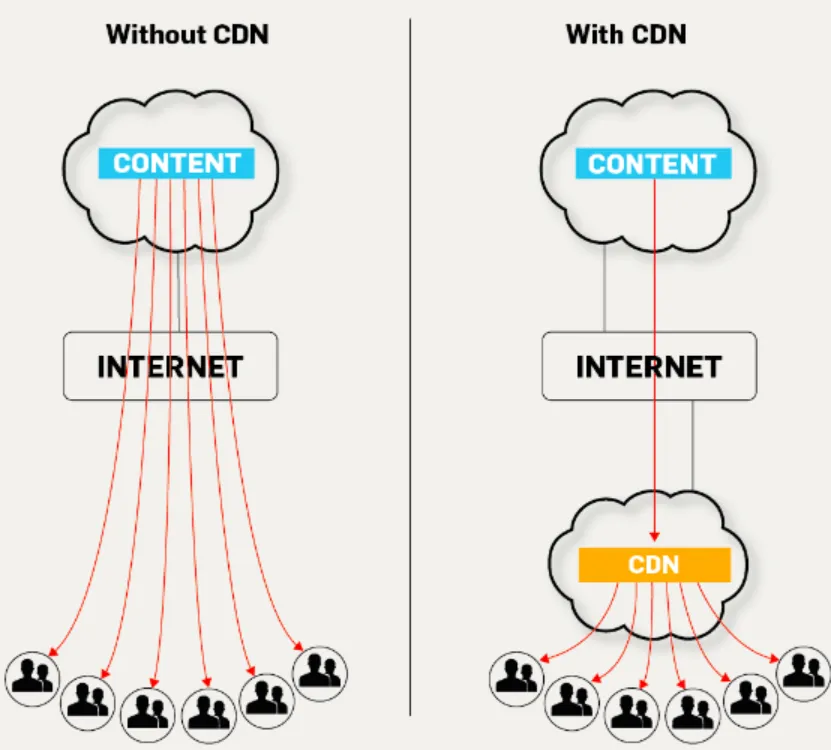 Slow loading page harms the number of clicks, SERPs ranking, and conversions.
7. Add "You May Also Like" Section
Cross-sell or upsell your products using terms like "others also liked," "this may interest you," or "you may also like." It increases the overall time spent by visitors on your sites.

The longer the visitors stay on these sections on your page, the better it is for SEO.
Such tactics enhance the usability of the product page and boost its conversion rate. It provides an opportunity to add valuable and important internal links. And, these sections enhance the user experience.
8. Use Clear Page Titles
Optimizing your product titles is extremely important. Create effective titles. Your titles should combine the product details.
Here's an example of how Walmart e-commerce store used Air Cooler in page title which makes it easier for users and SE to locate.

Check for the keywords people will most likely use to search for your product.
And You should do all this in 60 characters or less. It is because that is the number of characters shown in the search Snippets without truncating your title.
Good page titles help you in improving your search rankings. It also boosts your click-through rates.
9. Add Attractive Meta Descriptions
Meta descriptions are not the factors directly contributing to your site's SERPs ranking.
They help increase click-through rates that work as an indication for search engines to promote your product page or eCommerce website.


You can include prices and a few important features in your meta descriptions to increase the click-through rates.
Keep all meta descriptions short and under 160 characters. Ensure that the descriptions accurately describe the page or the product.
Keep your meta description interesting. Else, it will not convince the visitors to click on your website when it appears in the search results.
10. Use Simple Breadcrumb Navigation
Do you have a large eCommerce site?
Then, displaying all categories or subcategories of your products on the main navigation is not possible.
You can use breadcrumbs as alternatives to leverage internal linking. It guides the visitors to navigate deeper into your site.
It helps both users and search engines to better understand the navigation.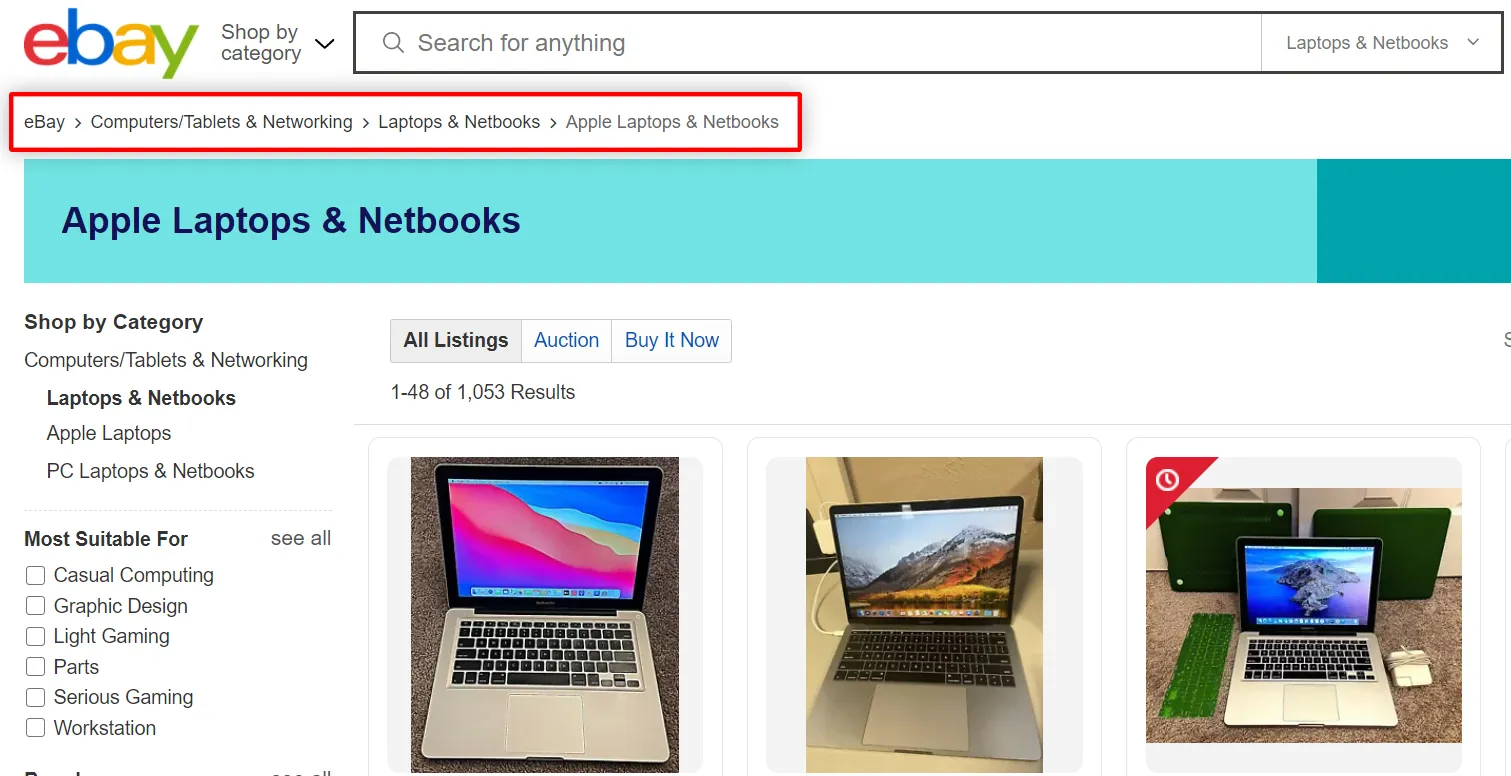 Breadcrumb menus enhance user-friendliness and site usability of your eCommerce website.
They enhance and improve your website snippets' presentation in the organic search results. Also, it leads to a higher click-through rate.
Your website must have a properly structured schema for Google to understand your site and business's relevancy.
Breadcrumbs are highly effective on product pages. They lead customers to discover an entire product line.
11. Add an Appealing Product Description
Great search engine optimized product pages do not have duplicate content. They will have unique and well-written product descriptions on all pages.
Similar or duplicate product descriptions confuse search engines while they try to index your pages. It affects your visibility and search engine rankings.
Every product description appearing on your product page must be unique, including the product titles.
Also, keep your product descriptions short, interesting, and factual. Make sure to focus on the benefits and value the consumers will get after the purchase.
The top e-commerce stores in the world like Walmart present each product description in a precise manner.

12. Add Search Engine Friendly URLs
For readability purposes, the URL should have less than 2083 characters. And, people should understand what's in the URL by reading it.
URLs must be short and should include important information about the product.

Keyword-rich URLs help Google in understanding the overall content of your product page.
User-friendly URLs help in improving your search rankings. You must remove all the dynamic parameters along with unnecessary elements from your URLs.
13. Add a Cool Headline
Neatly formatted headings and subheadings enhance readability. It helps the viewers find the information quickly.
You should include keywords, relevant terms, and synonyms to improve your SEO on your product page. Ensure that your headings and subheadings are short.
The headings must be interesting and attractive. It should convince the user to click on your URLs in the first place.
Do not keep irrelevant or meaningless headings. Use relevant keywords that users use to search the products. It informs the search algorithms that your page is relevant to those keywords.
14. Include Keywords With Purchase Intent
Adding product-oriented keywords are mandatory. But, weaving the buyer intent and related keywords into the on-page SEO is gaining ground nowadays.
Buyer intent related keywords are those that a visitor actively uses while looking to buy products or services.
Your product descriptions, title tags, and meta tags must include purchase intent keywords on your product page. It helps your on-page SEO to perform well.
Users' search intent is extremely important. You should consider it while optimizing your product page. It enhances your CTR and conversion rates.
15. Add ALT Tags for Images
Images have a massive contribution to your product sales. They help users visualize the products that they will be receiving after spending their money.
Make sure your high-quality images include alt tags and title tags. It helps your product images rank higher in the image searches.
It increases traffic, and thus, the customers too.

And they send additional relevancy signals to the search engines.
You must include the alt text's product name. It will enhance your product's visibility in the search results.

16. Optimize All Images in the Product Pages
Images are the crucial part of your product pages, regardless of what you're selling.
You must use high-quality images to entice your prospective customers. Also, keep in mind to compress your images so that the site loading speed is not affected.

The ideal image size should be below 70 kilobytes. Slow loading site speeds lead to downranking your website in the search results.
Another thing to keep in mind is that your images should be responsive. It displays well on mobiles and tablets.
17. Make Sure the Page Is Secure
Data breaches have increased in recent times. So, data security should be the top priority of any eCommerce Retailer.
If your product page is not secure, people will hesitate to conduct any transactions on your site. They will hesitate to hand over their important information like name, credit card information, and other sensitive details.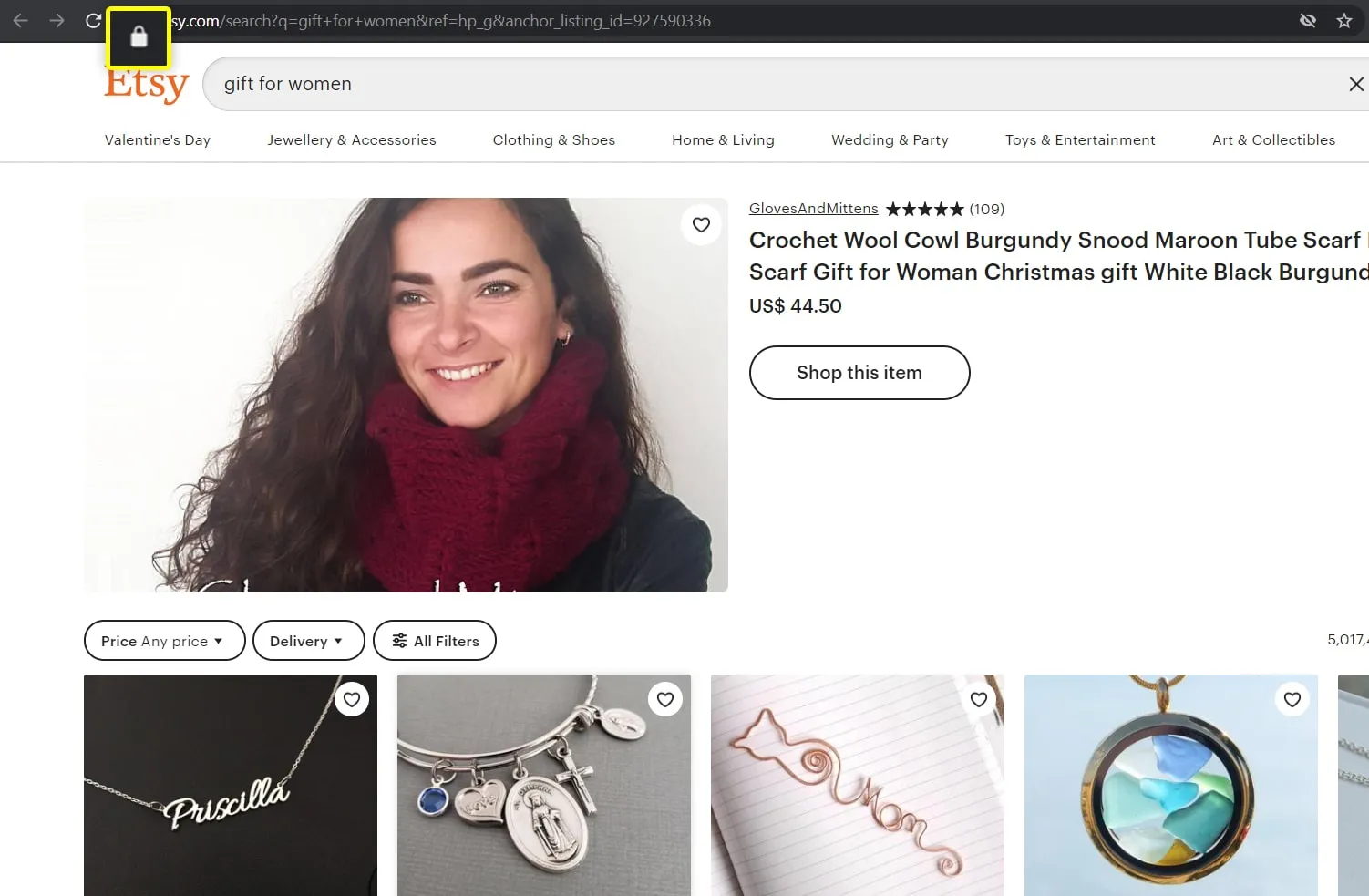 Your online store must use the HTTPS protocol (SSL Certificate). This protocol protects your business against security and privacy breaches.
Google also considers it one of the prime factors in ranking your website as secure or otherwise in SERPs.
When your website displays "not secure" in the URL, how many visitors do you think will click on your link?
18. Add Optimized Content to the Product Page
Suppose your business has stiff competition and most of your competitors are selling the same or similar products as yours.
In that case, your product descriptions must be unique and different from those of your competition.
Studies show that long-form content helps your site rank higher than short-form content. So, you must aim to include about 1000 words of on-page content on your product page as your product description.
Write detailed product descriptions highlighting your product's benefits. It helps you to hit a 1000-word mark easily.
You can include your product specifications and a FAQ section.
19. Earn Backlinks for the Product Pages
The higher the number of backlinks leading to your page, the better you will rank in the search results.
The simplest way to get quality backlinks is to give away free samples and valuable content. Give it in exchange for backlinks, reviews, and user opinions.
Quality content is another way to get high-quality backlinks. You can promote your offers using citations, blogs, and social bookmarking.

Gain quality and trustworthy links from trustworthy sources link back to your website. It is because Google considers it as a positive reference and improves your search ranking.
20. Add an Attractive Website Design & UX
Your business will do well only when your product page or other pages are clean. Also, make sure you design it professionally to encourage conversations.
The visitors immediately abandon the disorganized and cluttered sides.
If your products page has loads of content, you should ensure to categorize or structure it. Make sure your call-to-action buttons are visible, letting users click on them and act.
Successful SEO is not the only contributing factor to your website's success. It is the user experience that can make or break your website and business.
Factors like a responsive page, easy navigation, and high-quality, unique content, and product descriptions are crucial. It helps you offer the user experience that stands out from your competition.
21. Add Internal Links
The more valuable pages on your eCommerce site should internally link to different pages.
You should link each product page internally with other product pages, the home page, and the main landing page.
Internally well-linked pages help in executing SEO effectively. Also, it allows visitors to find all your products easily.
When a page has multiple backlinks, it has a greater link value compared to the other pages.
Internal linking also helps search engines mark relevancy and index your site properly. It leads to a higher page rank in organic searches.
22. Optimize the Product Page for Voice Search
About 80% of smartphone shoppers use "near me" searches to find local businesses. And more than 50% of such searches end in-store visits.
An increasing number of people use digital assistants like Alexa, Google Home, and Siri. They look for your products and services. So, you must optimize your product pages for voice searches.
Keep in mind that users conduct voice searches with longer and conversational style words.
Google favors voice searches too. So, you should focus on creating product descriptions in a conversational tone.
Include commonly used phrases to describe your location, "near me" in your internal links, title tags, meta descriptions. It optimizes your site for voice searches.
23. Make Sure the Design Is Mobile Friendly
Make sure your website is responsive or mobile-friendly. About 55% of shoppers abandon poorly designed sites. They do not recommend those websites to others.
All your pages must be mobile-friendly. You should individually test each product page for functionality.
Cross-browser testing is a great way to validate every product page's usability and appearance for mobile screen display.
You must test each product variant. Also, ensure all important elements on the page are clickable.
Demo test your entire purchase process while testing your site for loading speed.
Responsive and mobile-optimized pages that load faster help Google in indexing your site better.
24. Include Social Sharing Buttons
Online visitors love social share buttons. They help them judge the content's validity on your products and other pages on your site.
The number of social shares on your product page indicates that the page has relevant and quality content.
Social share buttons Inform search engines about your products' popularity. It ultimately contributes to a higher search ranking.
When people share your product information with others, it is a clear indication that those people find your brand and website highly valuable. So, include enough social share buttons on the website. It will make it easier for people to share your products and website.
25. Do A/B Testing Regularly
Well tested product pages help you sell your products well. Product pages have a lower-stakes position in the site's overall hierarchy. So, they are the ideal places to experiment.
You must try out new messaging, images, CTAs, colors, and highlight customer pain-points or product benefits. You can use readily available testing tools to find these.
Experiment with the length of general content and product descriptions.
Run your tests to obtain a substantial sample size data to derive meaningful insights. Focus on testing one thing at a time, not everything simultaneously.
Learn from the insights you gain and optimize the required parameters. It will enhance your website's user experience, conversions, and ROI.
Your site will naturally rank higher in SERPs.
26. Include LSI Keywords in Your Page
LSI keywords are long-tail phrases, usually 4 to 5-word in length. It helps narrow user searches down to a specific user inquiry or intent.
LSI keywords increase specificity related to your products. So, they work better than the competitive keywords.

For example – the LSI phrase "remote control avenger toys" is way more helpful in narrowing down user intent and query than the competitive keywords like "avenger toys." It saves users loads of time.
They can quickly land on your product page without sifting through countless results in SERPs.
Using LSI keywords will help you in improving your site rank and relevancy in organic searches.
27. Keep Your Page Trustworthy
Visitors in their discovery phase have this most prominent question in their minds – "Can I trust this site?"
Your site must display a trust signal across your pages. It will be easier for you to convince potential visitors to spend time on your site exploring your products. It will ultimately lead to a higher conversion rate.
You should A/B test your page and site for positioning the trust signals as it can be a bit tricky. See what works better that leads to improvement in conversion rates.
You can include trust badges on your page, especially on your checkout pages involved in purchase cycles. It guarantees site-trustworthiness.
28. Consolidate Product Page URLs
Suppose your eCommerce page is selling similar products, and you have many weak pages dedicated to various products based on the same search term.
In that case, you are losing out on a major chunk of your potential incoming traffic.
You must use a consolidated UI to handle all products. It will help site visitors make quicker and informed purchase decisions.
Try listing all product variations on a single URL. Make sure it never changes when a user clicks on the product option in the interface.
You can achieve this by using dropdown options. Using 301 redirects is another way to consolidate your URLs.
29. Use Individual URLs for All products
Have a clear and unique product description as it has multiple variations of some products.
Despite that, there is a possibility that your eCommerce site runs into content duplication or crawling issues.
There is a possibility that the cms on your site end up creating a unique URL for every product and associated category.
It will mean that based on various categories, each product ends up having multiple URLs. That will cause major duplication errors on your site.
To avoid this duplication, you must assign a unique master category to each product.
Make sure you leave room to add options to have multiple subcategories. It will help in creating unique individual URLs for all products.
30. Add Seasonal Product Pages
If your eCommerce site sells seasonal products, treat them like your "out-of-stock" products.
Keep the existing one intact or add a seasonal page, and remove order-placing functionality. Also, inform users that the product will be back in stock in the coming season.
Dedicated seasonal product pages help you effectively drive sales and conversions. You can do it through email campaigns and online ads.
Such pages also help visitors quickly find what they are looking for. Also, it helps in improving the user experience.
Publish your seasonal product pages as soon as possible. The reason is that the longer the page hangs around, your search rankings will rank better.
31. Use Short URLs
Your product page URLs must be short and easier to read. Instead of using product Ids, use keywords in your URLs to improve your searchability and rank in organic searches.
Is your website built on a WordPress platform?

Then, you can use permalinks to create meaningful and short URLs.
URLs are also used by search crawlers to index and understand what your page is about.
Longer URLs are harder to read. Also, it affects how visitors comprehend and interact with your content and brand.
32. Use Exit Intent Pop-Over
Exit intent popovers make a quick appearance right before visitors exit a site.
It prompts them to stay or take a particular action like:
"Hey, why don't you subscribe for more content" or
"Leaving us so soon?"
Many visitors find these popovers quite annoying, but they are effective in most other cases.
It is a fact that not all the visitors landing your site will convert. But it is worth the effort to get their email ids or leave a lasting impression in their minds.
You can do it by offering them free content or something of value. Make sure the users find it easier to reconsider your brand the next time they shop.
33. Give an Option to Compare Products
The very first product a visitor views after landing on your site may not be the best match with what they are looking for.
Maybe they would want to explore more, find a different size, color, and style. Allow the users to compare it with other products available on your site.

Offer product recommendations and comparison options on your product page itself. It will help you to capitalize on this viewer-desire. Also, it will keep the viewers interested and nudge them to convert.
Make it easy for your shoppers to easily compare prices, product features, different retailers, and their services. It will make it easier for them to make purchasing decisions, which mostly end in sales.
34. Add Relevant & Useful FAQs
FAQs work as one of the easiest conversion hacks on product pages on eCommerce sites.
There are many benefits of including FAQs on your site. But you should keep in mind that FAQs must be different from your product descriptions.
Add additional value to the user experience instead of being extensions to your product descriptions.
FAQs answer specific user questions. It helps them make informed decisions, leading to a higher conversion rate.
You can include user-generated FAQs that work as social proof to attract more potential customers. They also add authenticity and trust factors to your pages and brand.
35. Add Live Chat to Your Product Pages (or a Bot)
Attracting website traffic and keeping them interested in your page is not that easy.
Offer instant support to user queries or needs. Else, the visitors will leave your site without thinking twice about it. Even if you have excellent products, great prices, and an awesome UI, it won't be useful.
That is why you should add a live chat to your eCommerce website. It is considered a better option than most other communication channels like phone, email, or website forms.
Customers can get their questions answered quickly and stay interested in your products and site. It generates trust and more potential leads.
Live chat also reduces the bounce rate. It improves the conversion rate and keeps track of visitor activities. You can also analyze the chat transcripts later for insights to improve the user experience.
36. Put Yourself in Your Customer's Shoes
You should design your product page in such a way that it is user-friendly. It will put the shoppers at ease while they browse through the page.
Your product page should be able to address any concerns that a user might have.
Shoppers may have queries in their minds, such as:
"Will the battery last?"
"What is the process of returning the product?"
"What is the warranty period of the product?".
You must answer all these queries clearly and concisely. If there is any uncertainty involved, your potential buyer may choose to shop elsewhere.
Put your shoppers at ease by providing them with visual guides and proper instructions.
For example, if you are selling a toy product, mention the battery life and how to assemble the toy. The typical details in a guidebook will make it convenient for shoppers to buy your product.
37. Add Top-Notch Quality Content
Most often, businesses tend to clutter their product pages with lots of content and functions. It is important to keep a product page simple and useful with minimal added functionalities.
The quality of the content on the product page should be the best possible without much fanfare.
The reason is that when a product page is full of texts, the call to action might get muddled in between.
Instead, keep the product page simple with only essential browsing elements. Also, use an eye-soothing color theme. It will help the shoppers navigate the page with ease. Also, it will help you to provide a great shopping experience for users.
The text formats should be large enough for shoppers to notice. And they should complement the images placed next to them. It will give the product page an easy view and make it convenient for shoppers to spot a product easily.
38. Create a Sense of Urgency Amongst Your Shoppers
One of the quickest ways to get sales lead is to make use of the scare tactic.
Make your page visitors scared by offering them bargains for a short period. Saying things like, "you should act now, or you could miss out," will create that sense of urgency.
It might sound manipulative, but that is how it works in businesses. You need to convince your page visitors in such a manner so that they do not leave your site to shop elsewhere.
Implement an inventory management system for your business. It will ensure that it shows the shoppers what stocks are on sale and how long.
It is a good way to show your potential buyers how the time is running out and what incentives they can gain when they shop from you.
A lot of page visitors will opt for impulsive buying once they notice such a bargain.
39. Turn Your One Time Shoppers into Loyal Forever Customers
There are lots of eCommerce sites, and several products are available at affordable rates.
You need to ensure that huge transactions happen regularly on your product pages. It will help you to gain good returns on your marketing efforts.
As a business marketing tactic, you need to figure out how to make your customers come back to your site repeatedly.
Make sure to build a relationship with every customer. It will encourage them to return to your site whenever they have a purchasing requirement.
Create and run new campaigns regularly; make it a fun experience for your customers.
Offer discounts and coupons for the next purchase. It will make your customer feel attracted to your website and visit you again.
You can also conduct online quizzes that offer discount coupons or vouchers.
40. Customize Your Products as per the Availability
Many users look for a variety of colors and sizes. If your product page is not offering products in variety, you might lose out on a great deal of business.
If your products are available in different colors, sizes, and choices, you can customize the products as per the availability.
It will make the process of buying seamless for potential buyers. It is known as hyper-personalization and is a great marketing tactic.
Many eCommerce sites make use of this tactic to enhance their conversion rate. You, too, can do the same simply by placing the customization option for a product on the sidebar of the page.
You can also choose a different place for the customization option.
Just make sure it is noticeable to your users. The smoother the option, the higher is the chance for a sale.
41. More the Traffic, More the Sales, with Proper Product Page Optimization
Unless you optimize your product page well, no other tactics will help with the conversion of sales.
Get the product page optimized properly. It will drive organic traffic to the page, thereby enhancing sales.
Optimization is one of the most affordable marketing strategies that can generate leads for your business.
SEO is an ongoing process. It will not only generate leads for your business but also enhance organic traffic to your website.
Your product page is an interface. Remember that it speaks both to your customers and the search engines.
So set your page well with SEO-friendly keywords and phrases. It will help to make it to the top of the search engine pages.
The copy of your product page should be informative and engaging for your customers.
42. Do Not Overload Your Product Page with High Definition Images
The product page must be mobile responsive and should not take forever to load. Hence it is important to keep the page informative yet light on the images.
You must strike the right chord when it comes to designing the product page with images. The images must make the correct balance between their quality and capability.
If a heavy image takes time to load, it can result in impatience amongst the potential customers. It won't take them much time to go looking for the product elsewhere.
Instead, upload high-quality images but do not overdo it on a single page. It will look clumsy and kill the attraction of the product page for a visitor.
43. The Page Should Look Consistent
Keep your product page design uniform for all the product lines. Having uniformity in the various product pages helps in promoting trust amongst users.
One of the ways to maintain consistency is to use the same aspect ratio on all the pages. Keep the image styles consistent on all pages. It will make sure that the users are not distracted while navigating the page.
Keep the images in a square shape. The reason is that they look good both on desktops and mobiles.
44. Engaging Product Page to Build Confidence
Design your product page so that it reduces anxiety amongst your users and builds confidence instead.
Communicate with your customers in clear words. Let them know all about product quality and other information.
Add details like buying terms, the return policies, the sizing, as well as the warranty.
Add more testimonials. It let a visitor know that he is not the only one contemplating a purchase from your product page.
All this information will add credibility to your product page. Also, it builds trust in the user's mind.
Reviews also add to your SEO. Hence, this will enhance the conversion rate of your website to a good extent.
45. Offer a 360-Degree View of Your Products
If you only feature products in their front line view, a potential customer would not know how the products look like from their backsides. And there is a high probability that the product might not match the expectation of your customers.
Offer your customers a complete 360-degree view of the products.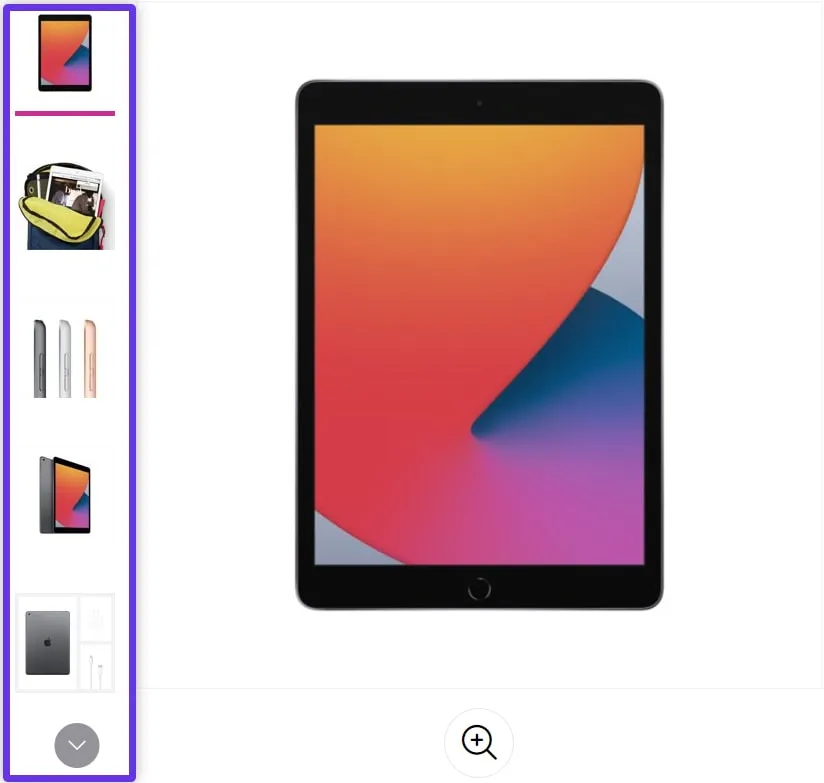 Add multiple images of your product from different angles. You can also add a gif showing the product in a 360-degree view.
As per a study conducted by Internet Retailer, product pages with a 360-degree view have an enhanced conversion rate. And, it is 27% higher than the conventional 2D product images.
Adding a 360-degree video to your products can give your potential buyers have a clear idea about how a product can look from all angles. It will give your website an edge in making a sale to a potential buyer.
46. Add Trustworthy Elements on the Page
Sometimes, what shoppers look for is a little reassurance from the seller. Assure your users that all their information is safe with you after checkout. It becomes easy for users to purchase.
You can do this simply by adding a few safety certifications on your product pages.


Many websites add security certification icons at the end of their pages. It adds to the overall trust in the business.
Make use of these tactics for your product page too. It will offer the necessary reassurance to your customers. They will shop from your eCommerce site with a free mindset.
47. Add Explanatory Product Videos
Online shopping is a way of life now. But there is a downside to online shopping as well.
Ordering online means a user will not be able to touch or feel the product. Work on this downside to turn it into your advantage.
Add product videos that let the user gauge how the product looks and feels.
Adding visual instructions on how to use a product or how to assemble it can also make it easy for the user. They will be able to decide on whether they would want to make the purchase or not.
Adding product videos to the product pages can enhance the sale to a huge extent.
48. Tag Products That Are Out of Stock
If your product is out of stock, do not wait for the user to reach the checkout page to learn that the product is currently unavailable.
In case your product is not available at the given moment, tag them properly on the products pages.

You can add a personal touch by offering your shoppers to subscribe to your newsletter. They will get a notification about the availability of the product.
Users who are genuinely contemplating a purchase will subscribe to the newsletter.
Increasing the number of subscriptions will inspire greater engagement. And it will eventually enhance your sale.
49. Display Comparison of the Original Price and Special Price
Offer products at a special price compared to their original market price. It is a great marketing strategy to promote your product pages.
You can also add a comparison of the two prices on the products page. Such a move can, in fact, work wonders for your business.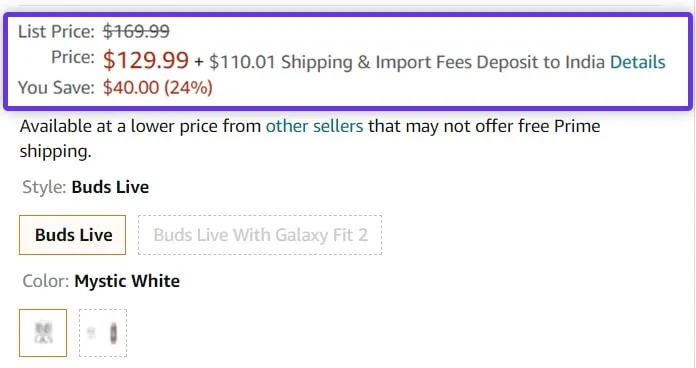 When you showcase how much the shoppers can stand to gain when they shop from your site, they will feel good about bagging a great deal. This will, of course, give a better conversion rate for your products page.
Offer special prices for some products for a specific period. It will create a sense of urgency amongst the visitors.
Some of the visitors might make impulsive purchases. It will increase the sales on your website.
50. Add Proper Information About Shipping Charges and Checkout Process
It is important to let your shoppers know the proper shipping charges for each of your website's products.
Do not keep the shipping charges hidden from the products page. Several eCommerce sites lose their buyers because of this reason.

Do not let your shopper learn about the rate of shipping charges on the checkout page.
Keep your shipping information clear on the product page in a visible manner.
Keep it in such a way that the shopper cannot miss spotting it.
It will also give your business a trustworthy appearance to even your one-time customers.
It might cause them to become regular and loyal customers of your business.
If you have complex products on your selling list, the shipping charges might vary as per the order's size.
In such cases, you can consider adding a shipping charges calculator at the checkout page. [See sample FedEx calculator]
The calculator should calculate the shipping charge with a particular product depending on its size and delivery area.
Design your product page precisely with proper instructions. Ensure there is no room for any confusion. The checkout process should be easy to follow. And it should not take a lot of time for a user.
When the checkout process is convenient for your user, fewer people will abandon their cart.
Allow your users to opt for the one-step process without any account creation. It is one of the great ways to create an easy checkout process.
Once the user completes the purchase, you can prompt the buyer to create an account with your website for future purchases.
11 Things to Avoid While Doing eCommerce Product Page SEO
---
1. Having Poor Product Descriptions
Make sure your eCommerce product page doesn't lack a product description or has a poor one. Else, your page will never make it to the top search rankings or even in the low-frequency queries.
Spend a good amount of time, creating good product descriptions. Else, it will indicate that your products are not that great or valuable and lack quality.
There are high chances that site visitors will immediately leave your site as Your visitors cannot trust your site. That might increase your bounce rate.
2. Using Copied Contents
Duplicate content on your eCommerce product page is harmful to your business even when you have pages that display very similar products or content.
Google algorithms might remove your content from the search rankings.
The best way to avoid duplication of content is to create fresh and original content and publish it regularly. You must audit your website to remove the duplicate content that already exists on it.
3. Using Duplicate Page Titles
One of the most common problems in the eCommerce world is using duplicate page titles.
Many eCommerce managers find it extremely easy to copy their manufacturers' page titles directly.
For executing successful SEO, title tags are needed on every page. So, the developers involved in the process find the quickest solution to this problem using a standard tag across all pages.
But the idea of using the tags is to help users and Google understand what your page is all about. And identical tags or duplicate page titles do no good. And your site will never have a good rank in SERPs.
4. Keeping Unwanted Product pages
When your products go out of stock or out of season or expire, you should redirect those URLs to:
relevant product pages or
similar product pages or
a page containing a dynamically generated message.
If your expired product page fails to redirect the users to another page, you will lose traffic and search rankings.
5. Stuffing Keywords in the Page
Stuffing your pages with relevant keywords will not fetch you any visitors or a good search ranking.
Instead, Google will penalize your page, and you will lose your existing search rankings as well.
Keyword stuffing leads to content that doesn't sound natural. It appears force and out of place. Instead, focus on strategically placing keywords across your pages and your site.
You should strategically place your keywords to improve your search rankings and user experience. You can place those in your section headers, meta descriptions, page titles, URLs, and alt text.
6. Overlooking Page Crawl Errors
There can be multiple issues with images, JavaScript, or CSS on your website. It can interrupt Google crawlers from properly indexing your site. In such cases, your site may fail to load, and it throws up crawl errors.
You can set up a Google Search Console Account to troubleshoot any such issues. You can log in to your GSC to see if your page loads properly or not.
Crawl errors may also occur when you have deleted or moved URLs or pages. Once you fix the crawl errors, you must validate them.
7. Using Thin contents
There is a possibility that even after writing unique product descriptions for each product, Google classifies your content as thin and excludes it from SERPs results.
It happens when Google crawlers do not find your content to be relevant enough to be included.
There are different ways of fixing this problem, the simplest one being adding more relevant content to your product descriptions or using "noindex tags." It will avoid indexing such pages until you add content.
8. Keeping Discounting Product Pages Live
You may discontinue many products when they reach the end of their lifecycle. But sometimes, these end of lifecycle products find newer models as replacements.
When a newer model replaces such a product, you must 301 the URL for that old model to the current product URL.
You should also inform or alert visitors about the discontinued product and replace it with another product.
9. Removing Seasonal Pages After the Season
When you remove the seasonal product pages after the season gets over, you will lose the authority to maintain your site rank. You will have to start from scratch every season to gain that authority to rank better in organic searches.
Instead, you should keep the seasonal product pages active. Also, inform the users when the product will be available next season.
10. Using Lengthy URLs
It becomes difficult to keep the URL short when you are running an eCommerce site. As all your products should have unique URLs, maintaining the right length can become a challenge.
Try to keep your URLs under 100 characters. If you have more than that, your chances of standing out from your competition are slim.
Also, people will refrain from clicking your links in the organic searches. That impacts your site's search ranking, and you lose potential customers.
11. Ignoring Negative Reviews
You should always include ratings, feedback, and user reviews, even if they are negative.
When you receive any negative feedback, there is an opportunity to turn it into a positive one with proper communication and effort.
It will help your customers regain trust in your brand. When you hide negative reviews, it is deceitful. It can hit your credibility and puts your search rank at stake.
Is this a tall order to tackle them all yourself? Get in touch with us to see how we can help your eCommerce site succeed.